Harvey Could Be First Hurricane to Strike Texas Since 2008 – Bloomberg
Harvey, which could strengthen into the first hurricane to strike Texas since 2008, forced workers to be evacuated from Gulf of Mexico platforms, sent cotton rallying and has airlines preparing for flight disruptions.
Currently a tropical depression, Harvey was 460 miles (740 kilometers) southeast of Port Mansfield, Texas, with top winds of 35 miles per hour, the U.S. National Hurricane Center said in its 5 p.m. advisory. It could develop into a hurricane just before landfall.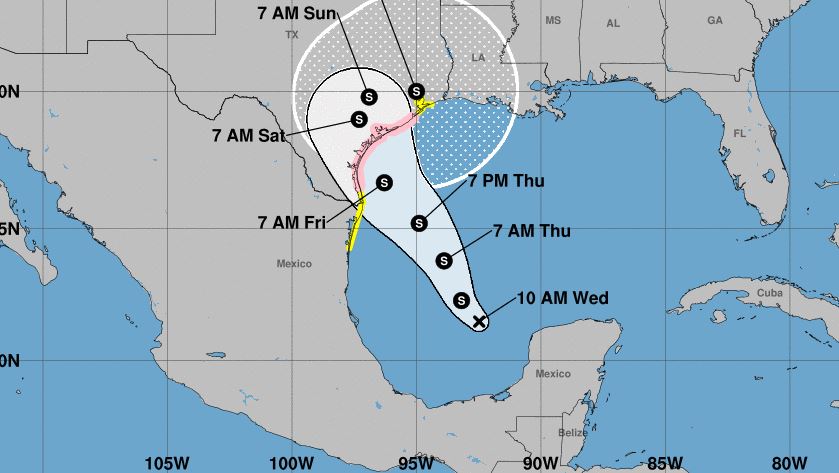 "It could intensify right up to landfall on Friday," said Jeff Masters, co-founder of Weather Underground in Ann Arbor, Michigan. "I expect a Category 1 hurricane at landfall, but I cannot rule out a Category 2."
The Gulf Coast from Corpus Christi, Texas, to Lake Charles, Louisiana, is home to nearly 30 refineries — making up about 7 million barrels a day of refining capacity, or one-third of the U.S. total. It's in the path of heavy rainfall expected to start late Thursday. Flooding poses risks to operations and may cause power failures.
"Biggest impact of this storm will be a significant reduction of crude oil imports into the Texas Gulf Coast, resulting in refineries cutting crude rates," Andy Lipow, president of Lipow Oil Associates in Houston, said by email. "There will also be a significant impact on petroleum product exports impacting supplies into Mexico."
Houston wholesale conventional gasoline rose 1.9 percent to $1.5926 a gallon Wednesday, data compiled by Bloomberg show.
Ike in 2008 was the last hurricane to hit Texas, said Dennis Feltgen, spokesman for the National Hurricane Center. Ike struck as a Category 2 storm on the five-step Saffir Simpson scale.
Heavy Rains
Exxon Mobil Corp. said it's cutting output at its Hoover production platform in the Gulf of Mexico ahead of the storm. The company's also working on plans to evacuate staff in stages from offshore facilities that will be in the path of the storm, Suann Guthrie, a spokeswoman, said by email. Royal Dutch Shell Plc shut production at its Perdido platform and evacuated the facility.
Anadarko Petroleum Corp. said Tuesday it's removing nonessential staff from some production platforms in the Gulf of Mexico in response to weather conditions. Cheniere Energy Inc. "activated" the severe weather team at its Sabine Pass LNG export terminal in Louisiana, Eben Burnham-Snyder, a spokesman, said by email. "At this time no production impacts expected."
Along the coastline, seas could rise 4 to 6 feet ( 1.2 to 1.8 meters) above ground level and from 10 to 15 inches (25 to 38 centimeters) of rain will probably fall across parts of Texas into Louisiana, the hurricane center said. Some areas could get as much as 20 inches of rain.
"It is going to be a wet one," Masters said. "It is not going to move fast after landfall and that is going to cause big trouble" from flooding rains.
Oncor, CenterPoint
The current track calls for the storm to land in southeastern Texas. Masters said at least one computer-forecast model shows the storm heading back into the Gulf of Mexico early next week before coming ashore in Texas again.
Texas power suppliers Oncor Electric Delivery Co. and CenterPoint Energy Inc. said they expect Harvey to make landfall Friday and are making preparations. American Electric Power Co. is making arrangements to bring in outside repair crews if they're needed, Larry Jones, a spokesman, said in a phone interview Wednesday.
Cotton rallied on speculation the storm will threaten U.S. crops. On ICE Futures U.S. in New York, cotton for December delivery climbed 1.6 percent to settle at 68.89 cents a pound after earlier reaching the highest since Aug. 10.
American Airlines Group Inc. is allowing people traveling through Houston and nine other cities on certain dates to rebook their flights without a fee because of the storm. United Continental Holdings Inc. is offering the same in eight cities, while Delta Air Lines Inc. is offering a similar waiver for Houston flights.
Policyholder-owned State Farm Mutual Automobile Insurance Co. has the largest share in the market for home coverage in Texas, followed by Allstate Corp., Farmers Insurance and United Services Automobile Association, according to data compiled by A.M. Best Co.
— With assistance by Amy Stillman, Sheela Tobben, Marvin G Perez, Naureen S Malik, Barbara J Powell, Mary Schlangenstein, and Sonali Basak
Powered by WPeMatico